Privacy Report Card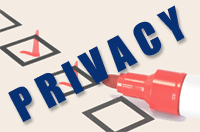 After the 2008 Presidential election, the Privacy Coalition sent a letter to President Obama on the privacy priorities facing the nation. Now we are asking you to help evaluate the progress of the new Administration. For each topic below, please read the description and provide a grade. Circulate the URL for this page so that others can participate. We will announce the results on September 9, 2009 at a press conference at the National Press Club in Washington, DC.
Grade the Obama Administration!
Grade the Obama Administration's work on medical privacy!
| | |
| --- | --- |
| One of the Obama Administration's key goals is the creation of a national medical health information network. Health information is among the most sensitive categories of personal information. Technology can secure health information by making it easier for patients to control access to their medical information. In February, the President signed legislation that included strong privacy provisions for electronic health records, including a ban on the sale of health information, use of audit trails and encryption, rights of access for patients, improved enforcement mechanisms, and support for advocacy groups to participate in the regulatory process. | |